We had a great turnout and the good weather held for our Aim for the Cure Charity Match. After Frank Vella offered some heartfelt remarks on the 15th anniversary of the 9/11 attacks and the heroism of the passengers on Flight 93 along with first responders, we observed a moment of silence before the Pledge of Allegiance. The match then progressed quickly and efficiently, though my shooting (as usual) slowed our squad to a crawl. It is always notable when Jim Clark, shooting a 5-shot snubby revolver, gets a better hit factor on the classifier than you do shooting carry optics. Pink was everywhere, and we appreciated the "formal" attire of David Williams who sported a bow tie along with his pink outfit. We had great stages, thanks to Jeff Turek and Shawn Stinton, and Jeff even constructed a long support structure and shooting box to ensure that each competitor had the same challenges. The stage names were fun, irreverent and entertaining. Most importantly, Susan G. Komen will receive $600.00 to continue their programs to end this terrible disease. Thanks to all that participated!
Match results are available at: https://practiscore.com/results/new/25617
Scott
Click on the image to see the full size: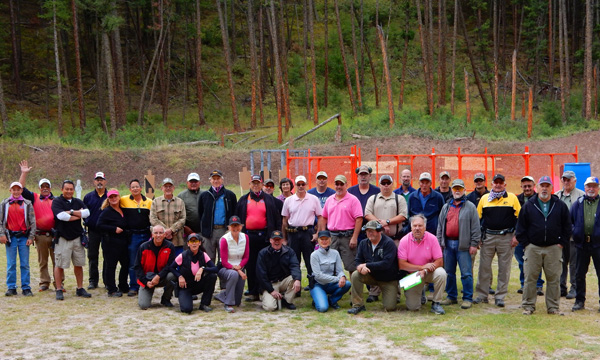 Greetings,
The USPSA classification system has been updated with the results of our July Special Classifier Match. The match consisted of several classifiers that had not been used previously at our club, and even included a fixed-time stage. The weather was great, and everything was finished and secured by early afternoon.
Our next event will be a multigun match this Sunday. Andy Hubbard originated all of the stages, and the Stage Committee of Jeff Turek, Joel Peters and Shawn Stinton ably converted the prop symbols and notes into completed stage diagrams. Andy restrained his initial desire to make the stages "challenging" by his standards, so there will not be 300-yard offhand rifle shots while balancing on an exercise ball (thank goodness). We will be using a lot of steel targets for this match, and will be using 100A and 300A, so please help us with setup on Saturday. Due to the additional equipment, we will begin setup at 12:00 noon.
WMFGA recently received an inquiry into the application of the Deer Creek Shooting Center (DCSC) rules to individual practice by BSPSC members. The inquiry noted that use of steel targets, poppers, IPSC target stands, and other BSPSC and personally owned equipment violated the published DCSC rules. In a discussion with the WMFGA Board of Directors, it was noted that BSPSC members have been given additional latitude to practice our unique sport. This is due largely to the extra training and knowledge that we are expected to demonstrate during our practice sessions. We must remember that with this extra latitude comes extra responsibility.
Our members must demonstrate the additional safety precautions during practice that we expect during a match. Precautions include, but are not limited to: not shooting steel targets at distances of less than 23 feet, careful target placement to avoid rounds leaving the bays, and proper handling of firearms at all times. Remember that all range members are expected to monitor safety throughout the facility. So if you are approached by another member or range official, please politely inform them of your BSPSC membership. It may even be an opportunity to explain the sport of practical shooting to them, and to market our club. When possible, use the East bays (50A-50F) for practicing with special targets, as these bays are closely associated with our club, and their use may reduce questions. We are extremely fortunate to have the support of WMFGA, and want to minimize any problems for them.
Bruno Friia graciously provided us with professional signs to hang on the bay covers when we are setting up for our matches. The signs will help reduce confusion when bays have stages completed, but appear to be available due to not having shooters present. Thanks also go to my Supreme Commander, Patti Thomas, and Althea Hodgetts for painting a massive amount of materials for our wall construction project. Over 400 pieces of legs, supports, and lathe received two coats of red paint. I have been informed that if I continue to "hurt" the paint with my lousy shooting there will be Hell to pay - stay tuned!
Our September 11, 2016 Charity Match will support the Susan G. Komen Foundation. All of the proceeds will support the battle against breast cancer. We hope to have lots of media attention, and lots of competitors. Plan on lots of pink, and mark that day on your calendars.
See you at the range,
Scott